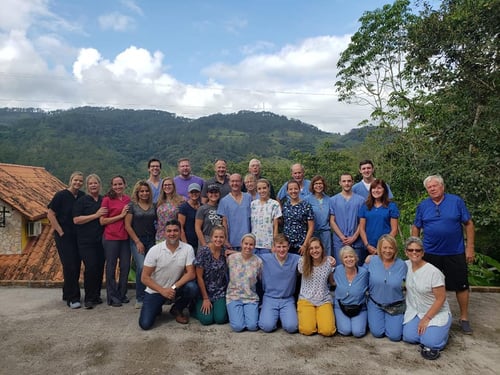 What's it like to experience a Rice Foundation Mission Trip? 🤔
At Rice Foundation, we believe that service to others is the way to transformation and renewal.
We position our volunteer teams in a way that they may witness firsthand the areas of need, provide the intended solutions, and interact with the local residents.
We all learn & grow along the way.
We design a week's schedule filled with activities that promote connection, learning, perspective building, and generosity.
We all have something to share with and teach to others, and these mission trips allow these gifts to flourish.
Join us and experience a week filled with:
Beautiful Poolside Breakfasts, supplemented by reflections from our team and local leaders.
Daily activities in the communities - focused on the mission's weekly theme (medicine, construction, sports, etc.)
Evening breaks: Relax and renew - tasting delicious Honduran snacks, beverages, and coffee.
Nightly team-building dinners: debriefing the daily activities and their impact, unexpected experiences, and the lessons of the day.
You will have a new way of seeing the world after serving with us. Come and share time with us!
Interested?
Apply to a trip today!
Learn more about the upcoming trips.
Apply and Prepare for a week that will mark a difference in your life.